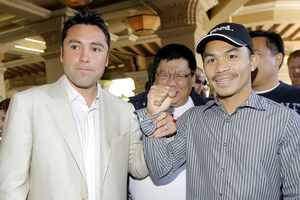 Only a few more days and one of the biggest boxing matches of the century is going to take place.  The fight between Mexico's Oscar "Golden Boy" dela Hoya and the Philippines' Manny "Pacman" Pacquiao has been a much promoted one.  This is due to a variety of reasons, not the least of which is the fact that the rivalry between Mexico and the Philippines has escalated in the boxing world.
Now there is another reason that promoters and sponsors are going to great lengths to promote the Pay Per View fight even more.  With the economic problems that the whole world has been experiencing, consumers are spending so much less on the non-essentials – and guess what, that includes paying $50 or more for a boxing match!
That is why this fight has made some leaps and bounds in terms of promotional activities.  From Facebook to reality TV mini series – the promoters are laying all the cards that they can on the table, with the ultimate aim of attracting as many people to pay to watch the fight on PPV.  The promoters, including Coca-Cola, Tecate, and Full Throttle, are offering rebates worth anywhere from $10 to $20.  If people make full use of these rebates, they can effectively reduce the cost of the PPV fees to around $5 – not a bad deal.
Seeing as everyone involved in the production side is making such an effort to attract people, I can just imagine the turn out of the audience – even if only on TV.  Still, you can never tell in these times.  Are you watching the fight?